A Top Service for Mattress Stain Removal London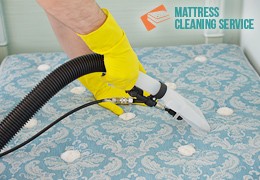 If you have a business or institution that rents out or re-uses beds, the chances are you will have had an unfortunate incident with unwanted stains in the past. If this is the case, get in touch with us to take advantage of our mattress stain removal in London service and rid yourself of all unpleasant stains! Whether they were caused by an innocent spillage of coffee or another beverage, a liquid such as wine, or are the result of far less pleasant substances, our service will be able to return your mattresses to the best possible state.
We have over ten years of experience in the trade, and always reward our customers with fantastic results. Our mattress stain removal services in London are performed by our highly trained, professional team. They're some of the foremost experts in their field, and we make sure that they have the best equipment on the market so that no matter what stain or situation they're presented with, they will be able to get right to work on resolving the issue!
The Advantages of Our Mattress Stain Removal Services
First and foremost, you will get your mattresses restored to their best condition through the expertise and painstaking skills of our dedicated team. But, what's more, you will be able to get this at one of the most affordable rates for mattress stain removal services in London! Our prices are amongst the most competitive around! Plus, using us for mattress stain removal London will put you in the perfect position to benefit from our:
Solid reputation:

check all of the testimonials we've received, over on our reviews page!

24-hour customer service:

available over the phone and online!

Weekend and evening appointments:

for your convenience!

Special offers on multiple bookings:

add a mattress steam cleaning or dry mattress cleaning to your order and make great savings!
Book Mattress Stain Removal in London Now
Call 020 3404 4220 now for a free, no-obligation quote on request a service through our online appointment form and arrange mattress stain removal services in London with equal ease.